ESCOOTERPARTS.COM and SCOOTERSUPPORT.COM
E36 GREAT WHITE ELECTRIC SCOOTER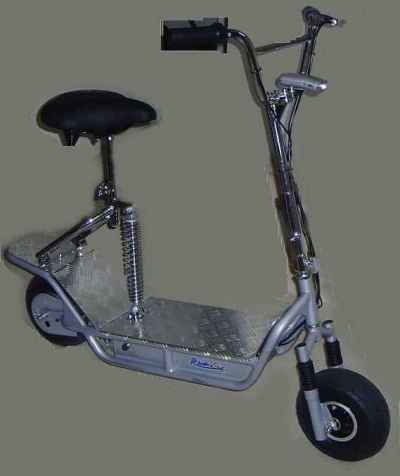 The fastest Electric Scooter on the market today!
REVIEW
FEATURES:

Front Shocks
800 Watt Electric Motor.

Max speed: Rated 25 upto 30 mph, depending on rider weight, tire inflation and battery strength.

Scooter folds for carrying, locking mechanism is safe and strong.
Range: 18 miles on a full charge (range is subject to weight of rider, frequency of starting/stopping & terrain type/angle)

Rider weight: Rated 250 up to 300 pounds

10" pneumatic tires

No rear shocks, but Seat model had shock absorber for a great, smooth ride.

Rear heavy duty band breaking system that cuts power from throttle when engaged

On/off switch with LED readout of battery and electrical system condition

Steel Diamond pattern deck

Accessories Included: Tool kit, and heavy duty fan cooled battery charger

Easy adjust seat to accomodate every rider (quick release/lock)

Traditional motorcycle type, right-hand, twist-grip throttle.

Maintenance free, 36 volt, 12 amp, sealed lead acid battery

Chain drive system - long lasting highest quality
Fold-Away, rear-mounted kickstand

Weighs 80 pounds with batteries

Colors: Black, Silver, Red, Blue, Yellow depending on model (seat or no seat)

We keep all primary parts available in stock and ready to ship if the need should arise.
---
REVIEW
Out of the box this scooter assembles quickly by attaching the seat and handle bar assembly. Always check the nuts and bolts, but the E36 is very close to being ready to ride. If you wish, top off the charge on the batteries in short order.
Now that the scooter is ready to ride, be cautious because this is a powerful electric scooter! Give it a slow advance of the throttle while getting accustom to it. The seated model rides very smooth with front shock absorption system and a shock mounted seat assemly that is very comfortable due to the large plush seat. Acceleration is smooth and the ride is amazingly smooth due to the large tires and shock absorption system.
This scooter is fast. Even with a 235 pound rider the acceleration and top speed on pavement or off road conditions is astounding. On hills, the electrical system provides adequately for climbing, but has a feature which will disengage the power IF the controllers senses an overheating condition. This will save the electrical system damage, and after 2-3 minutes of cooling be ready to continue.
The E36 is heavy duty and made for abuse. It features a very strong frame and can take the spills that off road riding abuse will inevitably produce. The handlebar assembly on the seated model are even stronger with a cross bar, for what reason I don't know, but you can bet the handlebars will take a pounding with this additional strength. It is a hardy scooter that will far outlast most.
The battery compartment is easily accessible. Allen head screws allow you to remove the steel diamond decking. You find the VIN number under the deck that you will need to register the scooter warranty, which as is all electric scooter at 30 days. The three batteries are 12 volts, 12 amp, 10 hour rated in series to provide a 36 volt total to the 36 volt motor. The controller is behind the batteries and heat sinked to provide cooling. The layout is very similar to all Rad2Go electric scooters.
Overall the Great White is a low maintenance electric scooter. Large tires require very little or regular air pressure checks. The front tire stem is completely accessible for pressure checks, and the rear tire has a hole through the chain guard where an extension is screwed into the valve stem for pressure checks and addition as necessary. The battery charger is fan cooled and the red light turns green when the charging is completed and automatically shuts off the charge process.
If you plan on doing any night riding of the Great White then the addition of a headlight, tail reflector, and reflective tape will provide some additional measure of safety. These items are not provided, but easily added if you have night activity in mind.
Is the E36 worth the investment of money? I would say yes just on the basis of how many emails we receive for people wanting more pep, climbing ability, and quality in their electic scooters. The old adage, "You get what you pay for", could not be more revelant with this scooter. It is able to take abuse, wear and tear, provide speed and needed power for inclines, and it has endurance to take you long distances even if you weigh up to 300 pounds. You won't find these qualities in many scooters, and not all of them in any scooter except this one.
---
MANUAL FOR THE E36 Great White

Warning: California State law requires all riders to be at least 16 years of age, as well as wear a cpsc approved helmet for any motorized vehicle,check your local state law if you live outside CA.
NOTE: This scooter is not an off-road vehicle, but is capable of high performance when used safely in that environment. Use extreme caution due to the power of this scooter! Each operator must assume all responsibility for care and operation while riding this scooter! It should not be ridden in or through sand, mud, or water since this can damage the electrical system if water is able to make it's way into the battery/controller compartment. USE COMMON SENSE WHEN OPERATING THIS SCOOTER AS YOU WOULD ANY DEVICE OR MACHINE!